We provide learning and development programmes at our own base near Padua, most recently a residential programme specialising in 'PCP for Coaching and Consulting in Organisations'.
We are also happy to travel to work with groups at their own location. Over the last year this has included designing and teaching workshops, and contributing to an existing post-graduate programme. Topics have included a 'An introduction to Personal Construct Psychology',  'Skills and Methods for Coaching'  and 'Constructivist Approaches to Working with Dreams and Metaphor'.
We are currently experimenting with an introduction to PCP by video-conferencing in Ireland, and we are helping to create a new PCP coaching programme with one of our UK partner organisations.
See what the recent participants say about our courses:  "The Voice of the Participants" on Vimeo
---
Our programmes are facilitated by leading figures in the world of Personal Construct Psychology who have rich experience in their specialist fields, and who enjoy the challenge of constructivist teaching.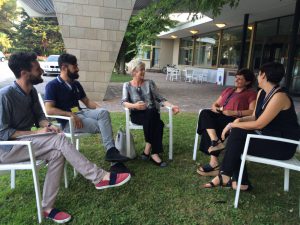 Our pedagogic approach aims to be true to the spirit of PCP, emphasising exploration and collaboration, dialogue and conversation, critical inquiry, and practical experimentation.
In collaboration with our PCP colleagues around the world, we aim to be as responsive as we can to the ideas, needs and interests of the emerging PCP community worldwide.
Our venue


The Lab programmes are based in the lovely hills just outside Padua, in Residenza San Marco, a beautiful old monastery, dating from 1443, nestled in the lovely thermal town of Monteortone. The town of about 2500 inhabitants is 3km from Abano Terme, a delightful leafy spa resort, which describes itself as "dedicated to rest and relaxation".
Immersed in the green of the Euganean Hills, the residence adjoins a historically important church, the Santuario della Madonna della Salute di Monteortone with its picturesque exterior and well-preserved frescoes. Still home to a small group of Salesian priests, the atmosphere is peaceful and reflective.
The teaching rooms and residential accommodation overlook a lovely cloistered garden. Bedrooms are simple and comfortable with ensuite facilities, and the good home-cooked food and wine are typical of the region. We also have access to the neighbouring spa hotel Mamma Margherita which has a pool and spa treatment facilities.
How to get to Residenza San Marco
Immersed in the green of the Euganean Hills and located  just 14 km west of Padua, our Lab home is easy to reach by car.
There are train and bus services from Venice and Padua. We will be able to advise and help with transport arrangements for international visitors, including direct transfers from Marco Polo and Treviso airports.
We are close to many tourist destinations including Padua, Venice, Verona, Vicenza, Garda lake and Dolomites, so we hope our programmes might fit well into a longer stay in Italy.
---
Residenza San Marco
Via Santuario 130 – Abano Terme
35037 Padova – Italia